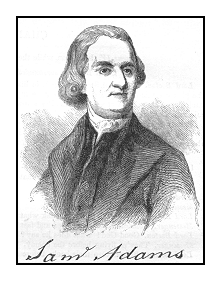 Samuel Adams, born in Boston in 1722; died in Boston in 1803.
Samuel and John Adams were cousins and not brothers. They were sometimes referred to, both inside and outside Boston, as the Adams' brothers, or simply as the Adams'.
Samuel Adams was born in Boston, son of a merchant and brewer. He was an excellent politician, an unsuccessful brewer, and a poor businessman. After his early education at Harvard, his early public office was as a tax collector for the English taxes. However, he made good use of his understanding of the tax codes and wide acquaintance with the merchants of Boston to assist the resistance to the taxes. Samuel was a very visible popular leader who, along with John, spend a great deal of time in the public eye agitating for resistance. In 1765 he was elected to the Massachusetts Assembly where he served as clerk for many years. In 1776, as a delegate to the Continental Congress, he signed the Declaration of Independence.